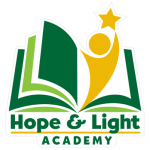 1174 WEST 70 TH PL, HIALEAH FL, 33014
Phone: (786) 803-8122/(786) 803-8235
Email: info@hl-academy.com
Welcome To
Hope & Light Academy
We believe every student should be embraced for their strengths, their differences and for what
makes them exceptional. Our school offers a strong academic education, by providing our
students with a learning environment that celebrates individuality, fosters creativity and curiosity,
and encourages all personalities to shine through.
Registration: $300.00 (Per student)
Tuition K – 8th Grades: $14,550.00
Transportation: $1,500.00
Testing: $200.00
Books: $300.00
Scholarships:
These are the different types of scholarship Programs accepted at Hope & Light Academy.
Please note that only one scholarship can be used in your Tuition reduction, regardless if you
were approved for multiple.
Step-Up for students – www.stepupforstudents.org
~ FTC Scholarship Program
~ FES – Educational Opportunities (Income Based)
~ FES-UA – Unique Abilities (Students with documented learning difficulties, formerly Gardiner)
~FES-EO – Family Empowerment Scholarship Program
Hope Scholarship Program